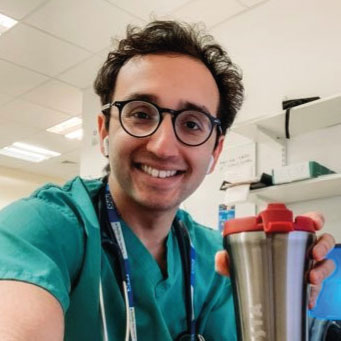 "This essential course, for those looking to smash their interviews, is led by Medicine Interview experts who take you through three main areas. These are Interview skills, knowledge and practice, to build a strong foundation and ensure you have successful Interviews!"
We Know You Don't Have Much Spare Time. Here Is What You Need To Know About Our Interview Crash Course.
This Interview course helped me gain lots of confidence. The tutors were super friendly but yet committed. They shared with us useful tips & techniques that surely helped me aced my interview. I would feel bad if I didn't properly thanks 6med for helping me enter my dream school. Great work guys- thank you!
7 Hours. Is It Enough To Prepare You For Your Medical School Interview? Of Course Not. But It's A Great Foundation.
7 Hours. Is It Enough To Prepare You For Your Medical School Interview? Of Course Not. But It's A Great Foundation.
Effective communication is key for a successful Interview. Admission tutors want to see a friendly, likeable person who has a genuine passion to be a doctor. Students need to demonstrate and communicate that they have the qualities and determination to become a good doctor. How do we teach you to communicate effectively? We do this through:
Communication skills seminar
Going through common question types as a group
Helping you structure your answers
It's vital that you back up your Interview skills with knowledge. We'll take you through some of the hot topics and those that appear every cycle, such as medical ethics, the NHS, and current affairs along with MMI stations (lateral thinking and breaking bad news). The Interview Crash Course is as interactive as possible – there's no reading off the board here.
Putting Your Learning Into Practice
The session that the majority of students find is the highlight of the day. We give a volunteer the opportunity for a Mock Interview for the rest of the class to observe. The volunteer uses the content they learnt during the day to give themselves an advantage. After the Interview, everyone comes together to give constructive feedback, including the tutor and fellow students. Please note, we can't guarantee every student a mock interview, so make sure you volunteer if you would like to have a go.
Students find this activity to be incredibly beneficial for understanding how to apply what they learnt during the day in the real thing.
Found the Interview Crash Course really useful. It helped me to think more laterally about my answers and reflect on my personal experiences. Putting us on the spot gave me chances to think on my feet and simulate interview conditions and pressure. Thank you!
Start the day with a brief introduction.
We'll then begin with our first topic which is the traits of a good doctor.
Next, we'll move on to creating your own experience bank.
The first topic after the break is on inner and outer game.
We'll then move on to the introduction to medical ethics.
Lunchtime! Grab something to eat.
The post-lunch session begins with common Interview questions.
Time to work through an example Interview.
Another break – we don't want your brains to explode! 
Course officially finishes.
Our Interview Crash Courses run from November to February. Secure Your Place! 
I found Interviews quite intimidating and as a shy person, I was really concerned about how I would come across during my Medical School Interviews. I benefited hugely from the communication skills seminar, which helped me to properly convey my passion to become a doctor!
Our Interview Crash Courses run over a range of weekends from November to February each application cycle. Our courses are held online due to COVID-19. You can check and book your place by clicking the button below.
Take A Look At The Materials We Offer To Accompany Your Crash Course. Read through Our Table Of Contents.
Take A Look At The Materials We Offer To Accompany Your Crash Course. Read through Our Table Of Contents.
The Interview Workbook covers key topics in-depth to save you having to research them yourself. You can thank us later!
This is just some of the content: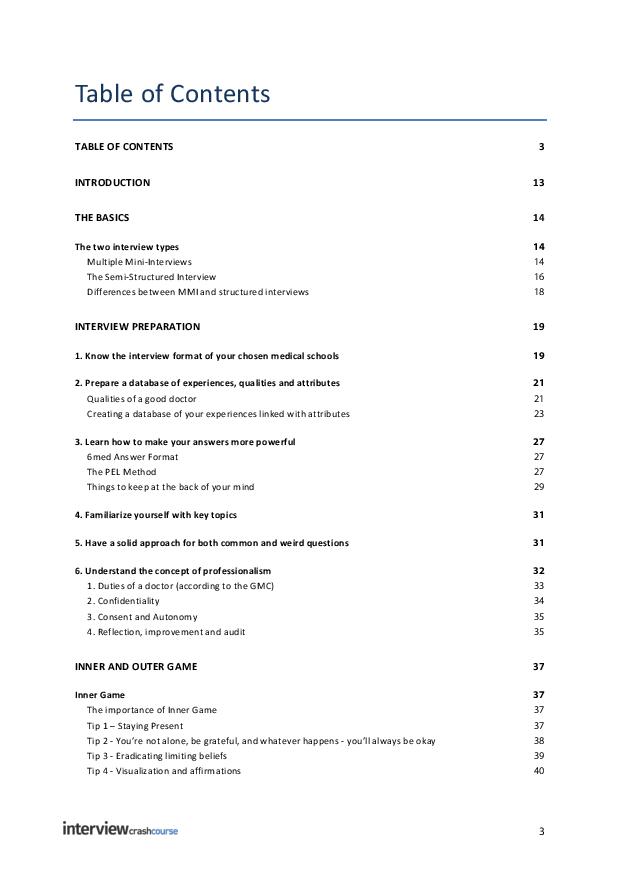 I attended one of your courses last month, ahead of my three med school interviews. Just wanted to say a huuuuuge thank you, since your course gave me a really big confidence boost as well as providing me with the nifty little details in the course book which certainly gave me an edge in the interviews!
Hear from the hundreds of students who have been supported by 6med and benefited from our courses. Read on here to view the unedited reviews of our courses.
Thank you so much for letting me attend the course this weekend after I couldn't come last Sunday. It was a really great day and I am definitely feeling more confident about interviews! The course was a brilliant opportunity and has really boosted my interview preparation!
The interview course really helped to analyse different parts that could come up that I'd never thought about and actually get into the mindset of being prepared for an interview – not by practising lines but generally have responses for certain subjects.
I would just like to say a huge huge thank you for helping me obtain all 4 medicine offers! I attended your UCAT and Interview courses (which would not have been possible without your generous bursaries!), along with having my personal statement checked. All 3 100% enabled me to obtain interviews and then offers 🙂 Everyone who I met was super friendly and up for banter aha which made the whole process a little less daunting!
Still have some burning questions to ask about the Crash Course? You may find the answer here. If not, you can always get in touch, we're more than happy to answer any questions!
Secure your place today and nail your Medical School Interview. 
All of our resources and courses are created and led by tutors who have gone through Medical School Interviews recently and excelled at them. We've helped thousands of students with their Medical School Interviews. Will yours be next?